Prix Galien Canada Research 2008
Dr. Daniel J. Drucker
Professor, Departments of Medicine and Molecular and Medical Genetics, University of Toronto

Director of the Banting and Best Diabetes Centre, University of Toronto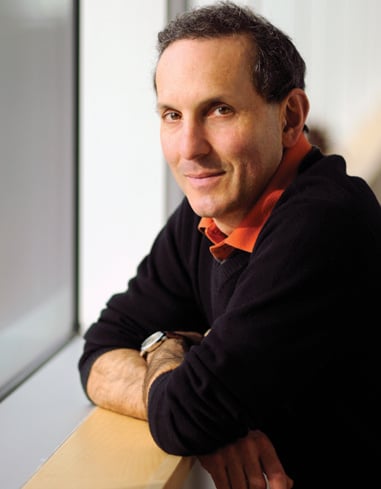 Dr. Drucker has focused his research on the role of glucagon whose function is to increase blood glucose when it becomes too low. His particular interest is the role GLP-1 and GLP-2, gut hormones which, when released in the blood by the intestines while eating, regulate the level of glucose by acting on the pancreas, stomach and brain. The secretion of these hormones is lower in Type 2 diabetics.
Through genetic work, including cloning of the gene for exendin-4 (a substance found in a venomous lizard) which lowers blood glucose, Dr. Drucker's research has played a major role in unravelling the biological actions of GLP-1 and the development of a drug now available in Canada for the treatment of Type 2 diabetes.
Dr. Drucker's work has also been instrumental in understanding the role of an enzyme, dipeptidyl-peptidase-4 (DDP-4), in the rapid deterioration of GLP-1. This led to a second drug, Sitagliptin, also available in Canada for the treatment of Type 2 diabetes.
Dr. Drucker also synthesized a GLP-2 analog that has just completed Phase 3 trials in human subjects with short bowel syndrome. Additional clinical trials in Crohn's disease are also underway.
The Research Award recognizes the outstanding contribution of a researcher or a research team having made, according to the Prix Galien Canada jury, a significant contribution to the diagnosis, prevention or treatment of disease. Candidates from academia, health-care institutions, research centres and the biopharmaceutical industry are eligible.
Prix Galien Canada Product
2008

Merck Frosst Canada Inc.
Gardasil
Gardasil is the brand name for a quadrivalent recombinant vaccine developed by Merck against human papilloma viruses – HPV 6, 11, and HPV 16 and 18- to prevent cervical cancer and genital warts.
There are two broad classes of HPV: The first includes viruses most likely to cause cancer; and the second, the viruses least likely to cause cancer but which do cause genital warts. The Gardasil vaccine includes two of the most common high-risk oncogenic papilloma viruses, HPV 16 and 18, as well as two of the most common papilloma viruses that cause genital warts, HPV 6 and 11.
HPV infection is quite common as approximately 75% of all sexually active Canadian women will acquire it at one point in their lives with a peak incidence between the ages of 20 to 24. Cervical cancer is estimated to cause over 90% of HPV-related cancer deaths worlwide. In Canada, it kills approximately 400 women per year.
A series of clinical trials have shown that Gardasil provides excellent protection against the strains contained in the vaccine. Seventy percent of cervical cancers can be attributed to the two strains of HPV (16 and 18) contained in the vaccine. Similarly, 90% of genital warts are caused by HPV types 6 and 11, also contained in Gardasil. Clinical studies have shown the vaccine to be very safe and to offer excellent protection against the four HPV strains mentioned.
The vaccine was approved, with priority review, in Canada in 2006 and quickly received the endorsements of the Canadian Pediatric Society, the Society of Obstetrics and Gynecology, the National Committee on Immunization and the Canadian Medical Association. Nearly all 10 provinces have initiated or are about to initiate Gardasil vaccination programs to prevent cervical cancer. The vaccine is now licensed in 105 countries worldwide.
In summary, Gardasil is undeniably an excellent product with widespread international acceptance. It is a truly innovative prophylactic vaccine against human papilloma virus-related diseases including cervical cancer and genital warts. The scientific approach to the development of the vaccine is also innovative. Gardasil has shown high efficacy for the HPV strains included in the vaccine and minimal adverse effects. Gardasil was given priority review status by Canadian authorities and has been widely accepted by the medical community.
The Innovative Product Award is presented annually to the company that has developed a drug judged by the Prix Galien Canada jury to have made the greatest contribution to the diagnosis, treatment, mitigation or prevention of a disease, a disorder, an abnormal physical state or the symptoms thereof, in humans and animals. The selected drug will have shown highly positive effects on patient care in Canada in terms of safety and innovation.