Prix Galien Canada Research 2010
Dr. Julio S. G. Montaner
MD, DSc (hon), FRCPC, FCCP, FACP, FRSC, OBC Professor of Medicine UBC and St. Paul's Hospital Foundation Chair in AIDS Research Head of Division of AIDS Faculty of Medicine, University of British Columbia; Director, BC Centre for Excellence in HIV/AIDS, St. Paul's Hospital, Providence Healthcare; Founding National Co-Director, CIHR Canadian HIV Trials Network; Past-President, International AIDS Society.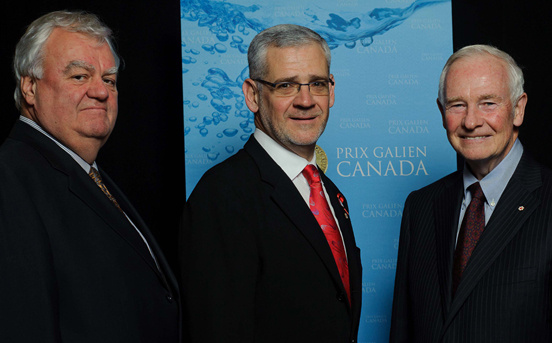 Dr. Julio S. G. Montaner , winner of the Prix Galien Canada 2010 Research Award, with His Excellency, the Governor General of Canada , David Johnston (right), and Dr. Jacques Gagné, Prix Galien Canada Jury President (left). ©CIHR-IRSC 2010
Dr. Montaner played a pivotal role in several major alterations in the management of patients who are HIV positive. He played either a leadership or participant role in several major randomized clinical trials that determined that combinations of antiretroviral drugs are successful in altering the course of AIDS by converting the disease from a rapidly lethal one to a chronic illness. He is responsible for the introduction of highly active antiretroviral therapy (HAART) that remains the standard of care in AIDS.
Dr. Montaner worked to understand more clearly the underlying basis of antiretroviral toxicity in the laboratory, in the clinic or the bedside, and in the population. In particular, he worked with others to develop an assay to monitor nucleoside-relared mitochondrial toxicity.
His most recent work has focused on the role of HAART as a tool to reduce the spread of HIV through the population. His most recent endeavour is entitled STOP HIV/AIDS (Seek and Treat for Optimal Prevention). The first papers on his effort are beginning to appear and indicate that the widespread provision of HAART is effective in reducing the development of new cases of AIDS in British Columbia.
Probably one of his most impressive accomplishments has been his work with local, provincial and international governments and organizations, including the United Nations and the World Health Organization, to change health policy regarding detection and treatment of AIDS.
Dr. Montaner is an internationally recognized clinician-investigator who has spearheaded clinical trials that have revolutionized the management of HIV/AIDS. His greatest impact has been his innate ability to bring the results of important research to the political and community environment and encourage them to implement the findings, both locally and internationally.
The Research Award recognizes the outstanding contribution of a researcher or a research team having made, according to the Prix Galien Canada jury, a significant contribution to the diagnosis, prevention or treatment of disease. Candidates from academia, health-care institutions, research centers and the biopharmaceutical industry are eligible.
Prix Galien Canada Product 2010
JANSSEN-ORTHO INC.
Ustekinumab
Stelara

Psoriasis, a common immune mediated skin disease, affects approximately one million Canadian adults between the ages of 15 to 35 with 75% of people developing it before the age of 40. Plaque psoriasis is the most common form and affects approximately 80% of those suffering from the condition. It imposes a physical and mental burden that extends far beyond the dermatological symptoms. Not treating psoriasis can lead to other more serious health problems.
STELARA (ustekinumab) is a monoclonal antibody developed by GenPharm (now Medarex) and marketed by Janssen-Ortho for psoriasis. It is a first-in-class biologic product that targets and inhibits two interleukins, IL-12 and IL-23, two cytokines involved in the pathogenesis of certain chronic immune-mediated inflammatory disorders, such as psoriasis, that affect millions of people worldwide. It is the first therapeutic monoclonal antibody approved for human use that was developed with transgenic mice engineered to express human antibodies.
It is the first therapeutic monoclonal antibody approved for human use that was developed with transgenic mice engineered to express human antibodies.
STELARA is efficacious and safe in the treatment of chronic moderate to severe plaque psoriasis. It offers some advantages over the other treatments available such as ease of use, longer duration of action and a comparable or slightly better cost/benefit ratio that the other biologics presently used.
The Innovative Product Award is presented annually to the company that has developed a drug judged by the Prix Galien Canada jury to have made the greatest contribution to the diagnosis, treatment, mitigation or prevention of a disease, a disorder, an abnormal physical state or the symptoms thereof, in humans and animals. The selected drug will have shown highly positive effects on patient care in Canada in terms of safety and innovation.
Louisa Greco, Vice-President, Sales and Marketing, and Spilios Asimakopoulos, Customer Director, Dermatology, from Janssen-Ortho accepts the Prix Galien Canada 2010 Innovative Product Award on behalf of JANSSEN-ORTHO INC. with His Excellency, the Governor General, David Johnston (right) and Dr. Jacques Gagné, Prix Galien Canada Jury President (left). ©CIHR-IRSC 2010