Prix Galien Canada Research 2013
Dr. Francis Allan Plummer
The Prix Galien Canada 2013 -Research has been awarded to Dr. Francis Allan Plummer, Chief Scientific Officer of the Public Health Agency of Canada, Scientific Director of the National Microbiology Laboratory in Winnipeg, and Distinguished Professor – Departments of Medical Micobiology and Community Health Sciences at the University of Manitoba.
Dr. Plummer graduated with his MD from the University of Manitoba in 1976, is a Fellow of the Royal College of Physicians and Surgeons of Canada and holds Honorary Degrees from the University of Calgary and McMaster University. He is the recipient of numerous Awards and Honors, including: Officer of the Order of Canada and of the Order of Manitoba, Distinguished Professor (University of Manitoba), Tier 1 Canada Research Chair, Queen Elizabeth Diamond Jubilee Medal, McLaughlin Medal of the Royal Society of Canada and an HIV Research Achievement Award.
Dr. Plummer is an exceptional scientist who has made very significant contributions in the field of HIV research and is clearly recognized as an international leader in this field. His contributions to HIV research began with his work in Nairobi working with prostitutes with multiple exposures to HIV individuals. Some of these women remained uninfected with HIV despite the multiple exposures. This led to a series of investigations, international collaborations and some very important discoveries about the susceptibility to HIV infection and transmissibility.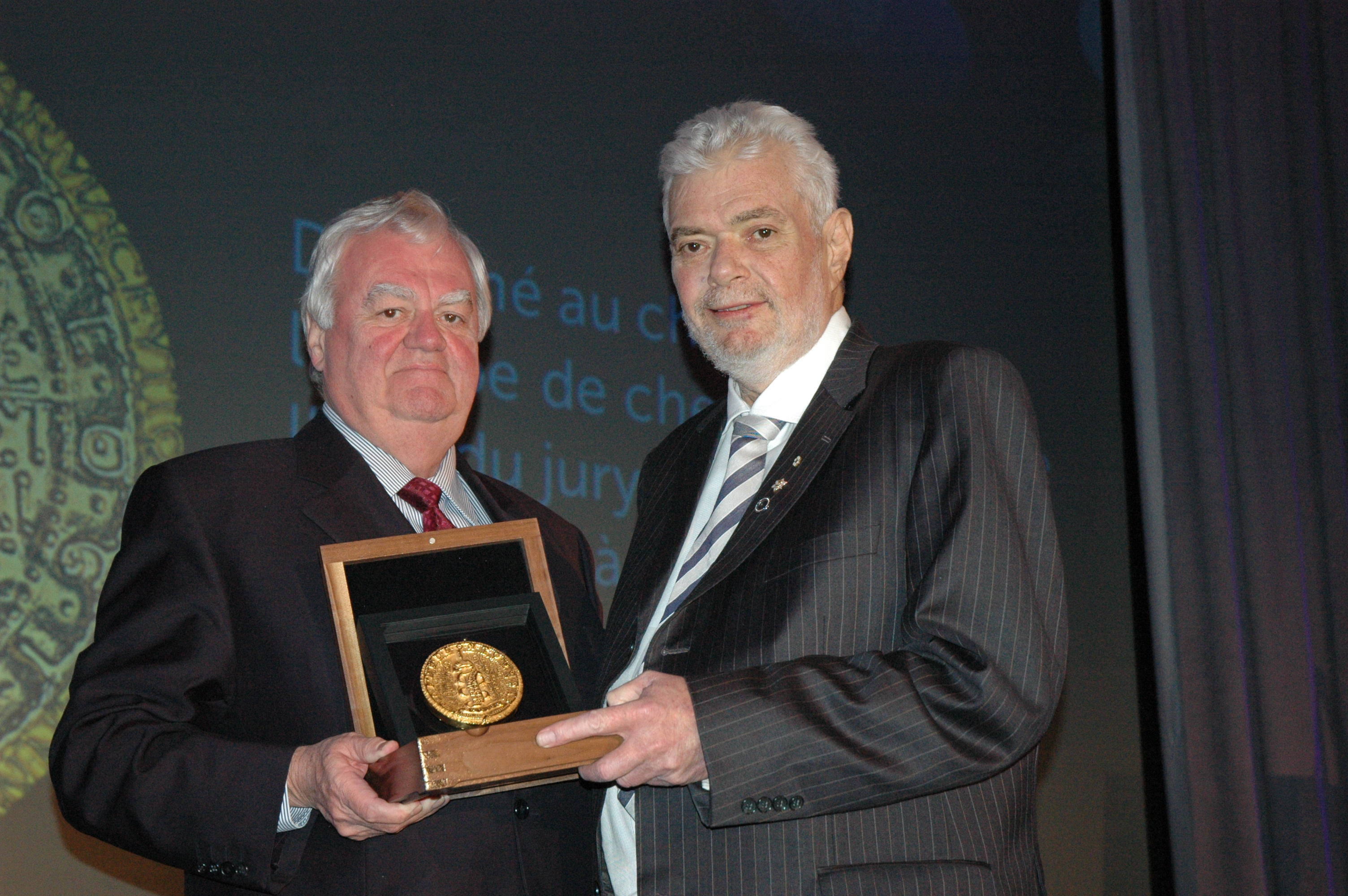 Dr. Allan Francis Plummer accepts the Prix Galien Canada 2013 - research Award from Dr. Jacques Gagné, President of the Jury of Prix Galien Canada.
His most important work has been around the sexual transmission of HIV and understanding the epidemiology in the Nairobi prostitutes. Careful epidemiological studies have shown the importance of male circumcision, the importance of genital ulcers in HIV transmission, key studies on transmission from mother to infant, and the identification of a cohort of prostitutes that were resistant to HIV transmission. He was the principal author on key papers showing the resistance to HIV among persistently seronegative prostitutes in Nairobi. He demonstrated cross reactivity of HIV-specific cytotoxic T-lymphopcytes in highly exposed seronegative women. He also demonstrated a CD8+ lymphocyte response in the cervix of HIV-resistant prostitutes which was important in maintaining the seronegative status. He also demonstrated the presence of mucosal and plasma IgA from HIV exposed individuals who remained seronegative. The IgA was able to inhibit HIV transmission to
epithelial cells. It is the work on CD4/CD8 specific responses to HIV and specific HLA-allotyping that is important in seronegative patients. These basic studies have also provided encouragement for the development of HIV-vaccines.
Dr. Plummer holds patents on his SARS and HIV related research. Despite being appointed as the Scientific Director of the National Microbiology Laboratory for Health Canada, he still maintains grant success, publications, leadership rôle in his field of specialty and training of graduate students. His research funding is exceptional ( in the neighborhood of $6 M annually). He has had an impact on many graduate students : 21 Ph.D., 7 Msc, 3 MPH and 7 PDF plus 15 Infectious Disease Fellows.
Dr. Plummer has another wonderful attribute. He is the builder of a successful organization, the University of Manitoba-University of Nairobi Collaborative Research Program which brought in major collaborators from Oxford, University of Ghent, University of Washington, Tropical Diseases Institute in Antwerp and University of Toronto. This organization remains a major focus of international research collaboration on HIV.
As the Scientific Director of the National Microbiology Laboratory he has done a remarkable job. This world class laboratoy has dealt with major outbreaks of infectious diseases nationally (SARS, MERS, MRSA, C. difficile, H1N1influenza and more recently H9N7 influenza) and internationally. He has served as a National Advisor of the National Academy of Sciences, the World Bank, the World Health Organization, and the governments of Kenya, India and Lesotho on the AIDS/Hiv problem.
In summary, Dr. Plummer is an exceptional scientist who has made very significant contributions to the field of HIV research and is clearly recognized as an international leader in this field. His scientific career has been exceptional. His work has had a major impact on the health of populations world-wide.
Prix Galien Canada Innovative Drug Product 2013
Yervoy

The Prix Galien Canada 2013 – Innovative Drug Product is awarded to ipilimumab (Yervoy) marketed by Bristol Myers Squibb Canada. Ipilimumab (Yervoy) is a fully humanized IgG1 monoclonal antibody that blocks cytotoxic T-lymphocyte-associated antigen 4 (CTLA-4), a negative regulator of T-cells, thereby augmenting T-cell activation and proliferation, thus making the immune system tolerant to foreign antigens. Many cancer patients have increased expression of CTLA-4 and blocking CTLA-4 helps to restore the immune response to cancer cells and allows the patient's immune system to fight the tumor. Yervoy is the first of the antibodies directed at CTLA-4 to increase the immune response and to be used as an anti-cancer agent.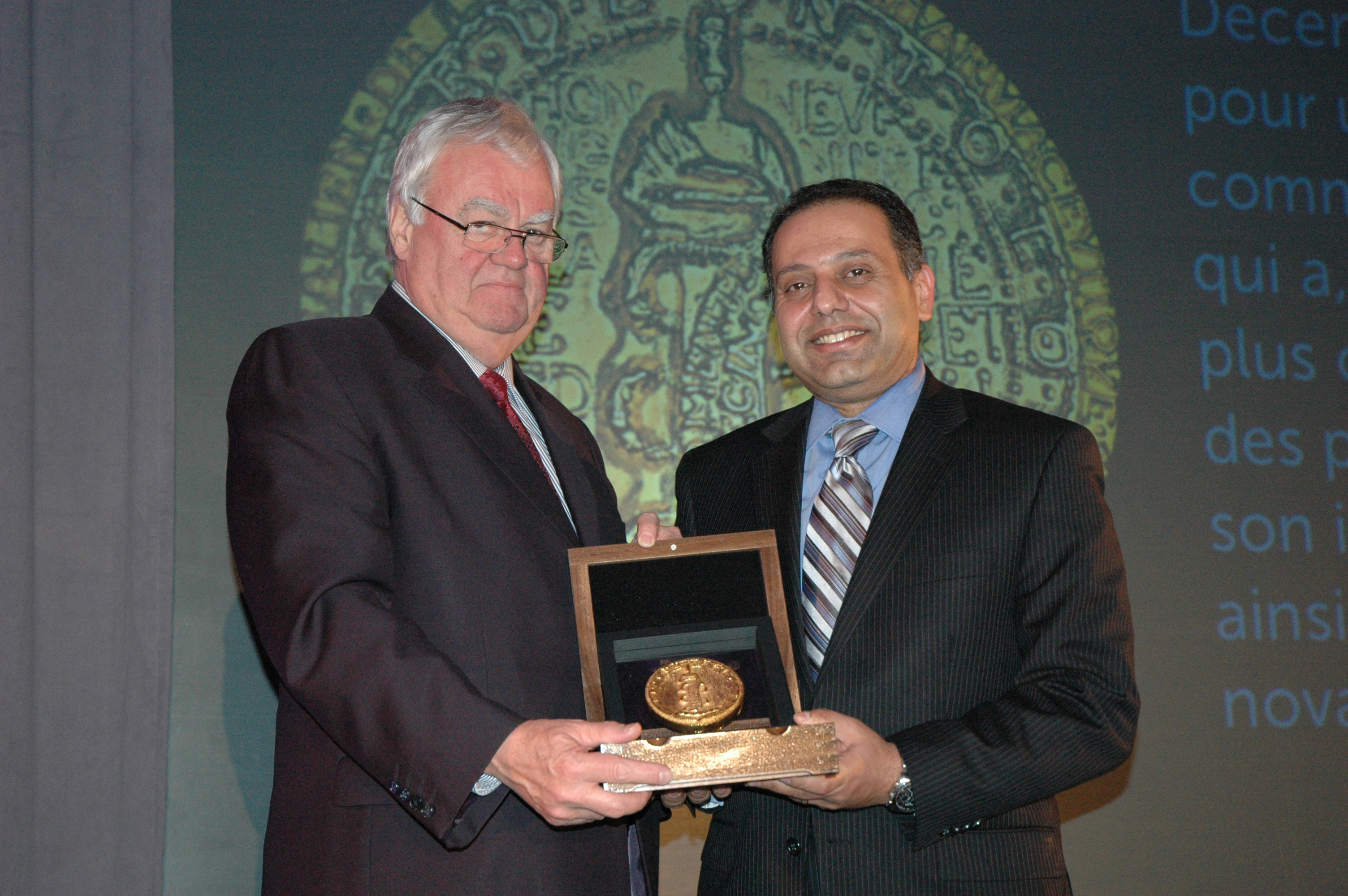 Dr. Awny Farajallah, Vice-President, Medical, Bristol-Myers Squibb Canada accepts the award from Dr. Jacques Gagné, President of the Jury of Prix Galien Canada.

The product was marketed by Bristol Myers Squibb in Canada in early 2012 following a Phase III trial of 676 patients with unresectable metatastic melanoma that progressed during systemic therapy. There were initially three arms to the study, one combining ipilimumab with a gp100 vaccine, another with ipilimumab alone or with the vaccine alone. Both arms with ipilimumab showed significant improvement over the use of the vaccine alone, improving the overall survival of the patients with matastatic melanoma Stage 3-4. This study was published in the New England Journal of Medicine. Until this time, dacarbazine was the standard of care for metastatic melanoma. An additional Phase III study was undertaken in previously untreated patients with metastatic melanoma with two arms: one with ipilimumab plus dacarbazine vs dacarbazine plus placebo. The ipilimumab arm showed longer overall survival. Additional studies were reported in patients with melanoma and brain metastases in Lancet Oncology and concluded that ipilimumab once again was beneficial, paricularly when the metastases were smaller and asymptomatic.

Because ipilimumab is an immune stimulant, response does not occur rapidly and may even look like disease progression initially. Immune adverse effects such as autoimmune hepatitis, GI symptoms and swelling of the tumor sites are common and have resulted in drug-related deaths during the clinical trials although the company has developed an algorithm for managing the adverse effects. However, the patient consultation in the use of this innovative product has strongly favoured its licensing despite the risk of adverse drug effects given the devastating disease that metastatic melanoma represents. Since the availability of this drug, there have been numerous case reports of complete remission of the disease with occasional long-term survival being recorded.

Ipilimumab has been accepted by the Pan-Canadian Oncology Review panel

In summary, Ipilimumab is an innovative product that has changed the landscape of treatment of metastatic melanoma, a disease that affects about 900 Canadians a year. It has been a very significant addition to the therapy of metastatic melanoma and may possibly open the door to novel therapies of other metastatic cancers.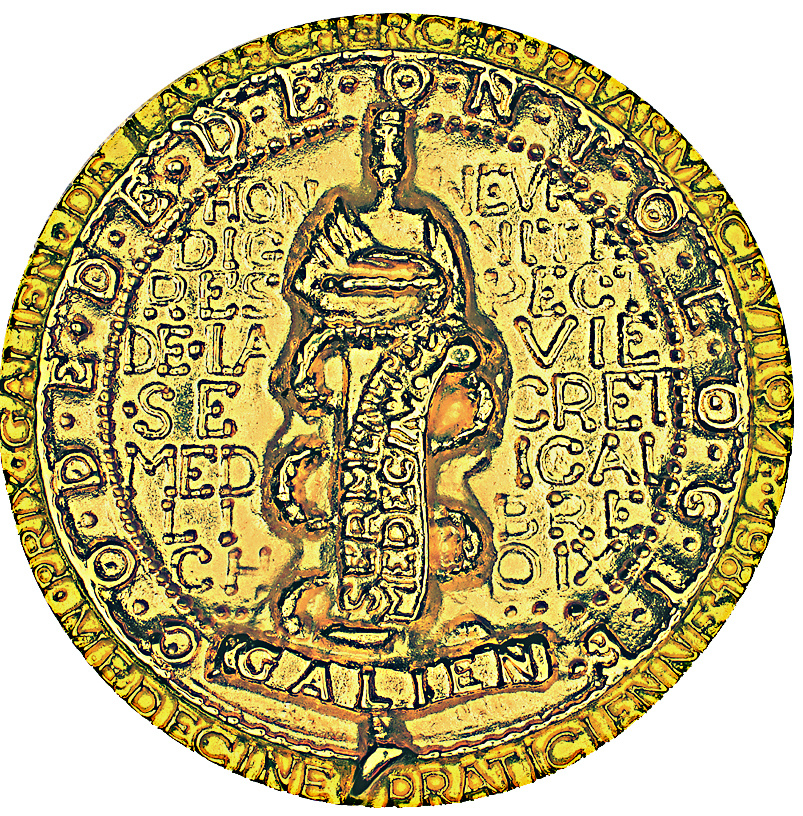 The 2013 Rx&D Health Research Foundation Medal of Honour awarded to Dr Julio Montaner and the Honourable Kelvin K. Oglivie
The Rx&D Health Research Foundation has awarded un 2013 its prestigious Medal of Honour to two worthy nominees. Dr. Julio Montaner and the Honourable Kelvin K. Ogilvie received the Medal of Honour for their outstanding contributions to health sciences and public health innovation.
Dr. Julio Montaner holds an endowed Chair in AIDS Research at SPH /UBC, is the Director of the BC Centre for Excellence in HIV/AIDS and a former President of the International AIDS Society. He has played a key role in establishing the efficacy of Highly Active Antiretroviral Therapy (HAART) and has pioneered the implementation of 'Treatment as Prevention' (TasP), which calls for the expansion of HAART coverage to simultaneously decrease progression to AIDS and death, as well as to prevent HIV transmission. TasP has now gained global acceptance as the most promising means to control the HIV/AIDS pandemic.

The Honourable Kelvin K. Ogilvie is a leading expert on biotechnology, bioorganic chemistry and genetic engineering. His scientific accomplishments include the development of the "Gene Machine", an automated process for the manufacture of DNA. He is the inventor of Ganciclovir, a drug used worldwide to fight infections that occur when the immune system is weakened. Among numerous awards, he was named a Steacie Fellow in 1992, admitted to the Order of Canada in 1991, inducted into the Canadian Science and Engineering Hall of Fame in 2011 and received the Biomedical Science Ambassador Award in 2012. Dr. Ogilvie has achieved and continues to achieve tremendous success within multiple scientific fields.