The Prix Galien Canada Research 2014
Dr. Brett Finlay
Dr. Finlay is a Professor in the Michael Smith Laboratories at UBC and holds joint appointments in the Departments of Biochemistry and Molecular Biology and Microbiology and Immunology. He joined the UBC faculty in 1989 after completing undergraduate and graduate education at the University of Alberta and postdoctoral experience at Stanford University in California. His work has led to fundamental discoveries in the field of bacterial pathogenesis and the interaction of bacteria with the host cell. Through his basic research, he has developed a vaccine for enterohemorrhagic E. coli 0157 used in cattle to prevent the animals serving as carriers of the bacteria that can result in major human disease following consumption of contaminated beef. His group has successfully commercialized the cattle vaccine called Econiche, currently licensed in Canada and conditionally approved in Europe and the US. Also arising from this work, the group has developed an assay to determine the presence of type III effectors as a measure of the potential virulence of any 0157 strain found in ground beef, now being used to assess the risk of contamination in food and water sources. Using Salmonella as a model intracellular pathogen, he has investigated the role of host resistance and innate immunity on virulence factor expression in mouse and cow hosts. These investigations have formed the basis for the development of a novel subunit-based non-typhoidal Salmonella vaccine now in preclinical development for use in both animals and humans. He continues to pursue work on the interplay between innate immune responses and bacterial infections and, in partnership with Dr. Robert Hancock, cofounded a company called Inimex to develop and test an immune system modulator now in phase II clinical testing by Soligenix Inc.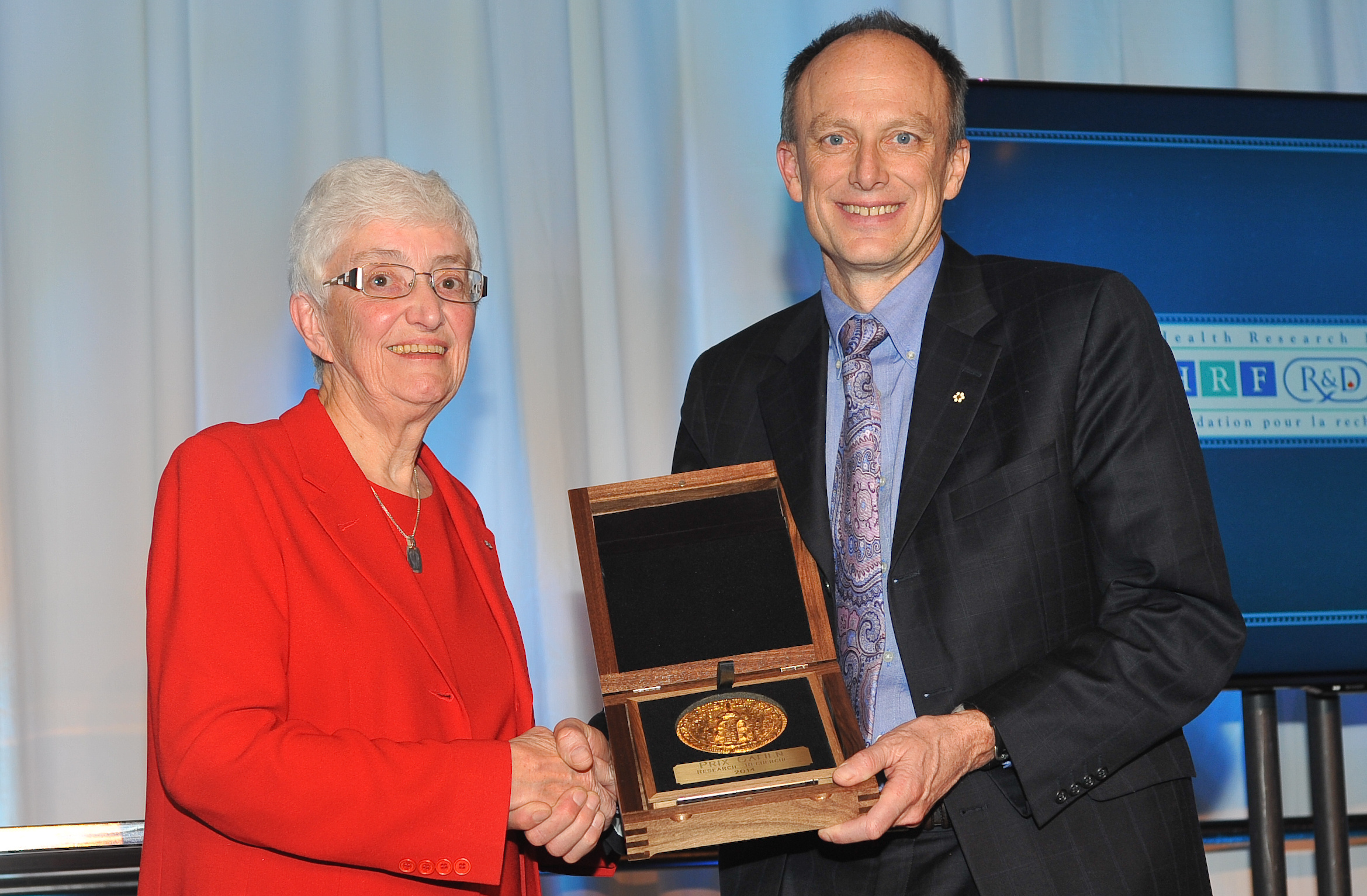 Dr Brett Finlay accepting the Prix Galien Canada Research Award from Dr. Jean Gray.
His major interest at present is focused on the microbiome and the contribution of microbes to the prevention or susceptibility to various diseases. He already has promising data on key microbial species in three-month-old children that may influence the later development of asthma and continues to pursue the role of an individual's microbiota in the development of inflammatory bowel disease, multiple food allergies, and cardiovascular disease. He is interested in attempting to restore normal gut flora to clear Clostridium difficile infection without further use of antibiotics. His expertise in vaccines led to his selection to lead the SARS Accelerated Vaccine Initiative (SAVI) in 2003 which led to the development of a vaccine as well as establishing a model for future responses to other emerging infectious diseases. Recently, with CIHR cooperation, he established the National Food and Water Safety Coalition, uniting industry, academia, and government in a major effort to enhance food and water safety in Canada. Dr. Finlay has been recognized with multiple major awards including the Steacie Prize, the CIHR Distinguished Investigator Award, Fellow of the American Academy of Microbiology, the Michael Smith Prize in Health Research, Fellow of the Royal Society, the Killam Prize in Health Sciences, and the Flavelle Medal of the Royal Society. He is an Officer of the Order of Canada.

To recognize Dr. Finlay's major contributions to microbiology, pharmacology, vaccine development, human and animal disease pathogenesis, and for transforming our understanding of bacterial interaction with the host cell, he is the 2014 Prix Galien Research Award winner.

The Prix Galien Canada Innovative Drug Product 2014
InterMune Canada (Roche) for pirfenidone (Esbriet)

Until now, the only treatment available to patients with idiopathic pulmonary fibrosis (IPF) has been lung transplantation or palliative care. Idiopathic pulmonary fibrosis is a chronic, progressive disorder of lung scarring that affects mainly older patients and has a death rate worse than most cancers. No drug has been shown to alter the course of this disease.
Pirfenidone is a heterocyclic pyridone with a somewhat unclear mechanism of action although it is thought to be mediated, at least in part, through the inhibition of the expression of transforming growth factors beta 1.
Originally developed in the 1970's as an anti-inflammatory agent, the drug was rediscovered in the 1990's as an antifibrotic agent and in 2002 was licensed by InterMune in North America, Europe and Australia and by Shionogi and Co. Ltd. for Japan. In 2014, Roche acquired InterMune, the company that has sponsored the majority of the clinical trials. Health Canada approved the drug in 2013 for the treatment of mild to moderate idiopathic pulmonary fibrosis. Three large phase 3 placebo-controlled clinical trials involved 9 Canadian centres. Primary outcome was the change in the percentage of predicted forced vital capacity (FVC) from baseline to week 72. There was no statistically significant decrease in all-cause mortality in the first two trials but there was a statistically significant increase in progression-free survival (PFS) in one of the two initial trials. Similarly, there was a statistically significant improvement in the rate of decline in the per cent predicted FVC in one but not in both of these trials. Pooled analysis of data from these two trials did favour pirfenidone for all of the above criteria. At the request of the FDA, a third phase 3 clinical trial was performed and recently published. In this trial, all the primary end points were achieved, including a significant reduction in the one-year rate of decline of FVC. There was also a reduction in the decline in the 6-minute walking distance in the treated patients compared with those who received placebo. A prespecified analysis combining the results of all three randomized placebo-controlled clinical trials was significant for all cause death and death due to idiopathic pulmonary fibrosis. A long-term open-label trial is ongoing for all patients who completed any of the three initial studies. The most frequent adverse drug reactions (ADRs) included gastrointestinal upset, rash, and photosensitivity and ADRs resulted in treatment discontinuations in 9% of the pirfenidone-treated group vs 3% of the placebo-treated group. Because the drug is metabolized by the CYP450 system, drug interactions will require careful monitoring.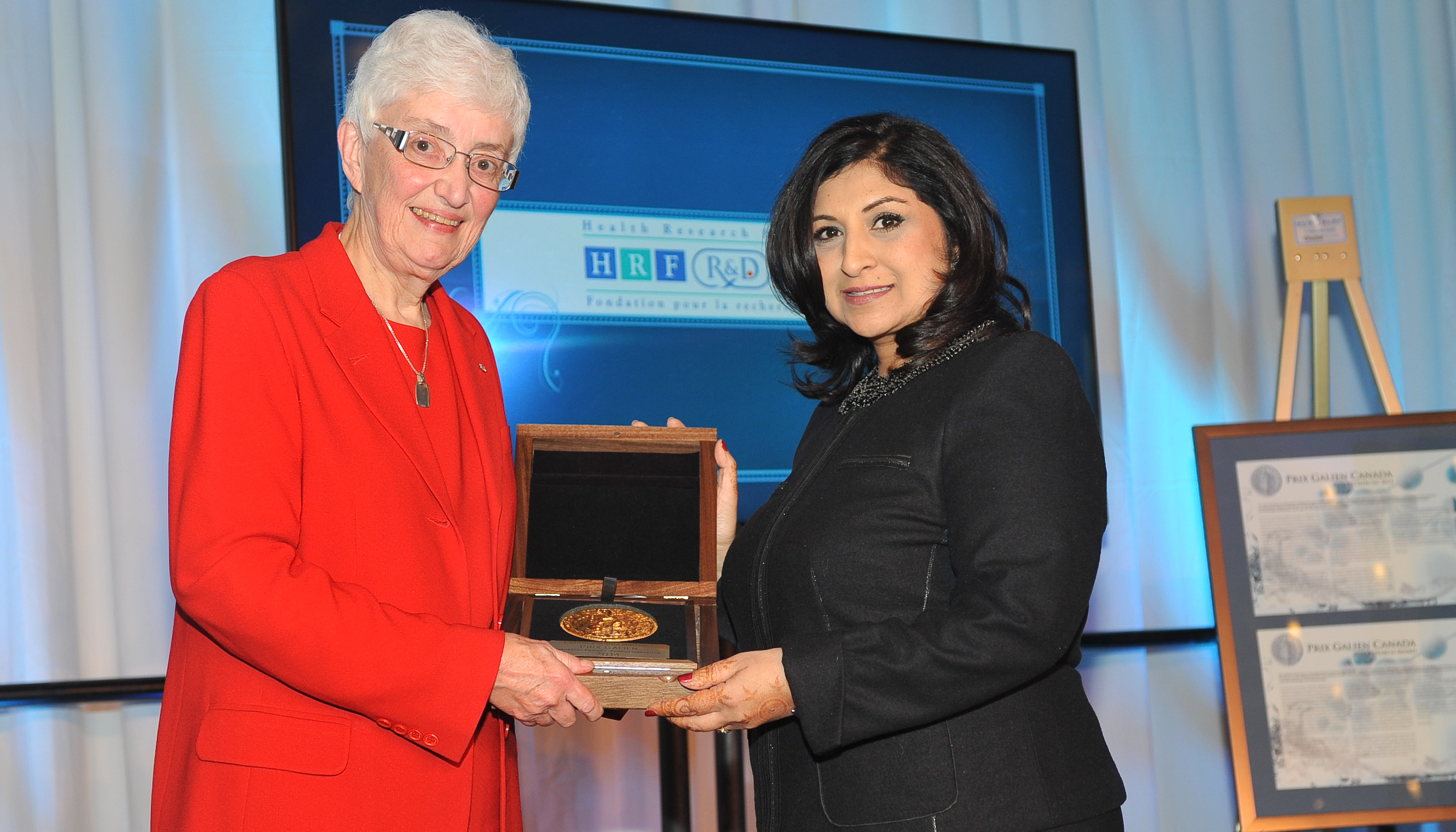 Dr. Jean Gray, President of the Jury of Prix Galien Canada and Dr. Nozhat Choudry, Director, Medical Affairs of InterMune Canada (Roche).
Pirfenidone is the first drug available to patients with idiopathic pulmonary fibrosis that appears to alter the course of the disease. Although the compound has been around for almost three decades, the recognition of its potential therapeutic benefits and the carefully conducted and large-scale clinical trials in a relatively rare disorder now offers hope to patients with idiopathic pulmonary fibrosis.
So for rediscovering and developing the compound for a previously untreatable disease, the Prix Galien for Innovative Produce is awarded this year to InterMune Canada (Roche) for pirfenidone (Esbriet).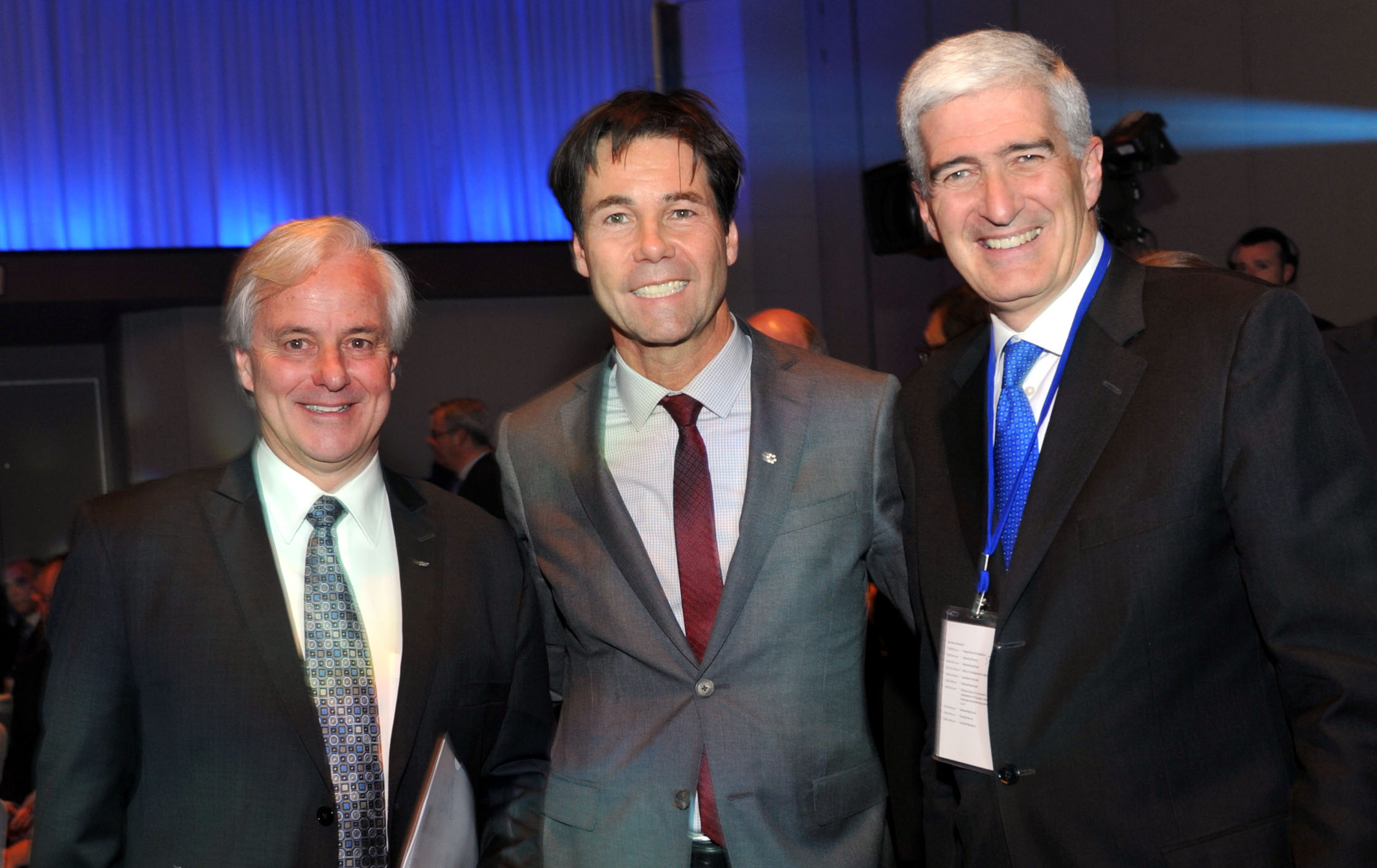 From left to right: Russell Williams, President of Canada's Research Based Pharmaceutical Companies (Rx&D), Dr. Eric Koskins, Ontario's Minister of Health and Long Term care and Bernard Lachapelle, President of Innovation Life Canada at Prix Galien Canada and Health Research Fondation Awards Ceremony.