The Prix Galien – Innovative Product 2016
Takeda Canada for Entyvio (Vedolizumab)

Entyvio is a member of the drug class – leukocyte adhesion molecule inhibitors. It is a humanized monoclonal antibody that binds to alpha4beta7 integrin on pathogenic gut- homing lymphocytes and selectively inhibits adhesion of these cells to mucosal addressin cell adhesion molecule 1 (MAdCAM-1) but not vascular cell adhesion molecule 1 (VCAM-1) thus inhibiting memory T cell migration into the Gi tract. Through this mechanism, Entyvio alleviates gastrointestinal inflammation without affecting immune responses to dermal antigenic challenge and immune surveillance of the central nervous system. The drug was approved in Canada for the treatment of ulcerative colitis in 2015 and was recently approved for the treatment of Crohn's disease.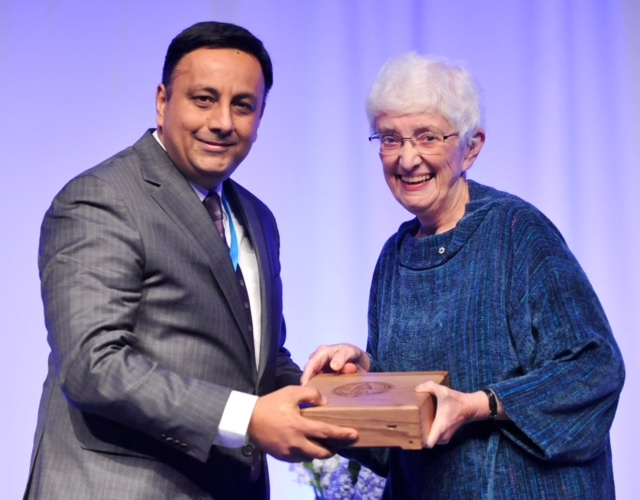 Chatrick Paul, General Manager, Takeda Canada and Dr. Jean Gray President of the Prix Galien Canada Jury.
The origins of this molecule began in the laboratory of Dr. Andrew Lazarovits at what was then the University of Western Ontario with the discovery of the ACT-1 monoclonal antibody that binds to alpha4beta7 integrin. His premature death resulted in the work being carried on by others and eventually in clinical trials led by Dr. Brian Feagan at the Robarts Research Institute in London, ON. These GEMINI clinical trials involved patients with ulcerative colitis and Crohn's disease who had failed at least one conventional therapy, including steroids, immunosuppressive agents or the anti-TNF alpha agent, infliximab. The phase 3 trials compared Entyvio with placebo and the agents were administered as an intravenous infusion to patients. The GEMINI program also included a long-term, open-label extension study that provided continuing access to treatment while collecting long-term safety data. Inflammatory bowel diseases including ulcerative colitis and Crohn's disease are relatively common in Canada and occur in young and middle-aged individuals. Treatment to date has included steroids, immunosuppressive drugs, and biologic agents but all these drugs must be continued for long periods of time and have significant side effects. Natalizumab is another drug that inhibits alpha4beta7 but also inhibits alpha4beta1 integrin which controls B and T lymphocytes in the CNS. Natalizumab entered the Canadian market in 2007 and appears to have similar efficacy to vedolizomab in the treatment of Crohn's disease but it has a rare but lethal side effect in the form of progressive multifocal leukodystrophy (PML) because of its action in the CNS. To date, the gut-specificity of vedolizumab suggests that this drug will not have a similar side-effect profile and studies to date to evaluate safety have not led to any serious CNS reactions.
Because of the unique mechanism of action of vedolizumab, the need for better treatment for young people with inflammatory bowel disease, and the strong Canadian involvement in the discovery, development, and approval of this drug, the Prix Galien Innovative Product Award for 2016 has been approved for Entyvio (Takeda).
The Prix Galien – Innovative Product 2016
Gilead Sciences Canada Inc. for Harvoni (Sofosbuvir/Ledipasvir)

The hepatitis C virus (HCV) is a major cause of liver disease in Canada with 0.8% of the population infected with this virus. A recent public health study indicated that HCV is the leading infectious cause of morbidity and mortality in Ontario. Since the early 1990's, therapy has been parenteral interferon-based combined with oral ribavirin and has required long periods of treatment with limited success and many side effects. In the early years of this decade, the first effective protease inhibitors (Telaprevir and Boceprovir) were added to interferon and ribavirin with a much improved sustained viral response and these drugs were joint-winners of the Prix Galien at that time. However, side effects of these drug combinations necessitated continued research leading to the discovery of sofosbuvir (Sovaldi), a remarkable HCV polymerase inhibitor with a high barrier to resistance. In combination with ledispasvir which targets the NS5A protein of HCV (the most sensitive target of any antiviral agent), the oral combination product, Harvoni, has produced highly impressive outcomes when used to treat HCV genotype 1.
Dr. Josée Brisebois, Medical Director Gilead Canada and Dr. Jean Gray President of the Prix Galien Canada Jury.
Approved in 2014, Harvoni is a fixed-dose combination for the treatment of HCV genotype 1 virus, the commonest form of the virus in North America and Europe. The drug has minimal side effects and in various clinical trials in patients naïve to treatment, resistant to previous treatment, and those with cirrhosis, the drug has shown cure rates (ie complete viral clearance) in over 90% of treated patients. Additionally, treatment regimens now range from 8 to 12 weeks, instead of the 48-plus week regimens utilized for the interferon-based regimens. Hepatitis C is now the first chronic viral infection that is curable! Although Canadians were not senior investigators in the Harvoni trials, there was substantial Canadian input to the clinical trials and Canadian clinical scientists served as co-authors of some of the publications that resulted from these trials. Additionally, the only non-primate animal model for this disease is the chimeric mouse developed at the University of Alberta. The mouse model is under contract to the NIH and was sub-licensed to Phoenix Bio in Japan. Over 160 HCV candidate drugs have been tested in this model. The patent for the chimeric mouse model is held by the co-investigators at the University of Alberta.
For these reasons, the Prix Galien Jury regards Harvoni as a truly innovative product that has cured a major disease and is highly deserving of this recognition in 2016.
The Prix Galien - Research 2016
Dr. Philip F. Halloran OC, MD, PhD, FRCPC, FRSC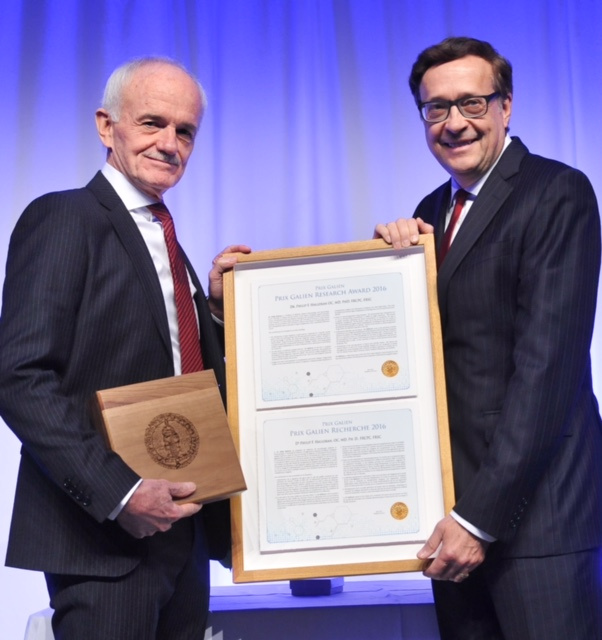 Dr. Philip Halloran is a Professor of Medicine, Medical Microbiology, and Immunology at the University of Alberta and the Director of the Alberta Transplant Applied Genomics Centre. He obtained his MD and residency training at the University of Toronto and his PhD at the University of London before returning to the University of Toronto as a junior faculty member. He was recruited to the University of Alberta as the Director of Nephrology and has had a distinguished career in the study of organ transplantation with a remarkable publication record.
His contributions have focussed on six areas including:
1. The identification of gene regulation in graft rejection (supported by a Genome Canada grant in 2004 with matching funds from the pharmaceutical industry) and the application of that knowledge to develop the Molecular Diagnostic System (MMDx), licensed to Thermo Fisher. Using microarrays, biopsies can be rapidly assessed for rejection and injury to enable the application of appropriate therapeutic strategies. MMDx is now being applied outside of organ transplantation in a variety of diseases such as inflammatory bowel disease and melanoma.
2. The description of antibody-mediated rejection. Dr. Halloran was the first to recognize antibody-mediated rejection(ABMR) as a microcirculation phenotype, thus guiding the development of the diagnostic criteria for ABMR. His work has enabled recognition that much of ABMR has been missed during clinical care. He is now describing the molecular mechanisms that underlie this process.
3. Insights into injury and progression in transplantation and primary disease. Using animal models, he has demonstrated how immune recognition, evoking increased expression of transplantation antigens and inflammatory mediators, can create organ injury. This work has applications beyond organ transplantation, including areas such as wounds and chronic diseases.


4. Impact in immunosuppressive drug treatment. He demonstrated that cyclosporine acts in vivo at sub-saturating concentrations to inhibit its target calcineurin. This process is rapidly reversible, explaining why blood concentrations of cyclosporine are vital to therapeutic management. He has played a major role in the clinical trials of a variety of new immunosuppressive agents used in transplantation, including serving as the lead in the development and presentation of CellCept. And his review articles on immunosuppressive drugs remain the definitive materials in this area.

5. Institutional leadership and innovation. Dr. Halloran's access to the executives of Roche enabled him to encourage the establishment and development of the Roche Organ Transplant Research Foundation, an independent Swiss charity operating under a Board of Directors that is an important source of funds globally for the study of organ transplantation. He also participated in the creation of the American Journal of Transplantation and served as the founding editor-in-chief. At the University of Alberta, he has assumed several major leadership roles.

6. Development of the next generation of clinical and scientific leaders. His clinical and research fellows as well as his former graduate students are now recognized as leaders throughout the world including at the University of Alberta, elsewhere in Canada, the US, the UK, Ireland, France, Spain, Germany, Austria, Thailand, Hong Kong, and Australia. Dr. Halloran is a deserving winner of the 2016 Prix Galien Research Award because his work has married the academic and the pharmaceutical industrial worlds and has had global impact.
Photo: Dr. Philip Halloran, winner of the Prix Galien Research Award 2016 and Dr. Richard Fedorak, Dean of the Faculty of Medicine and Dentistry of the University of Alberta.