Prix Galien Research Award 2017
Dr. Ernesto Schiffrin is one of Canada's most outstanding clinician scientists whose bench to bedside insights into the mechanisms and therapy of hypertension have had a transformative effect on our understanding and management of cardiovascular disease. Born in Buenos Aires where he completed his medical degree and internal medicine training, he moved to Canada and obtained a PhD in experimental medicine at McGill. Subsequently, he became director of the experimental hypertension laboratory and hypertension clinic at the Clinical Research Institute from 1981 to 2005 when he moved to the Lady David Institute and the Jewish General Hospital to become the physician-in-chief.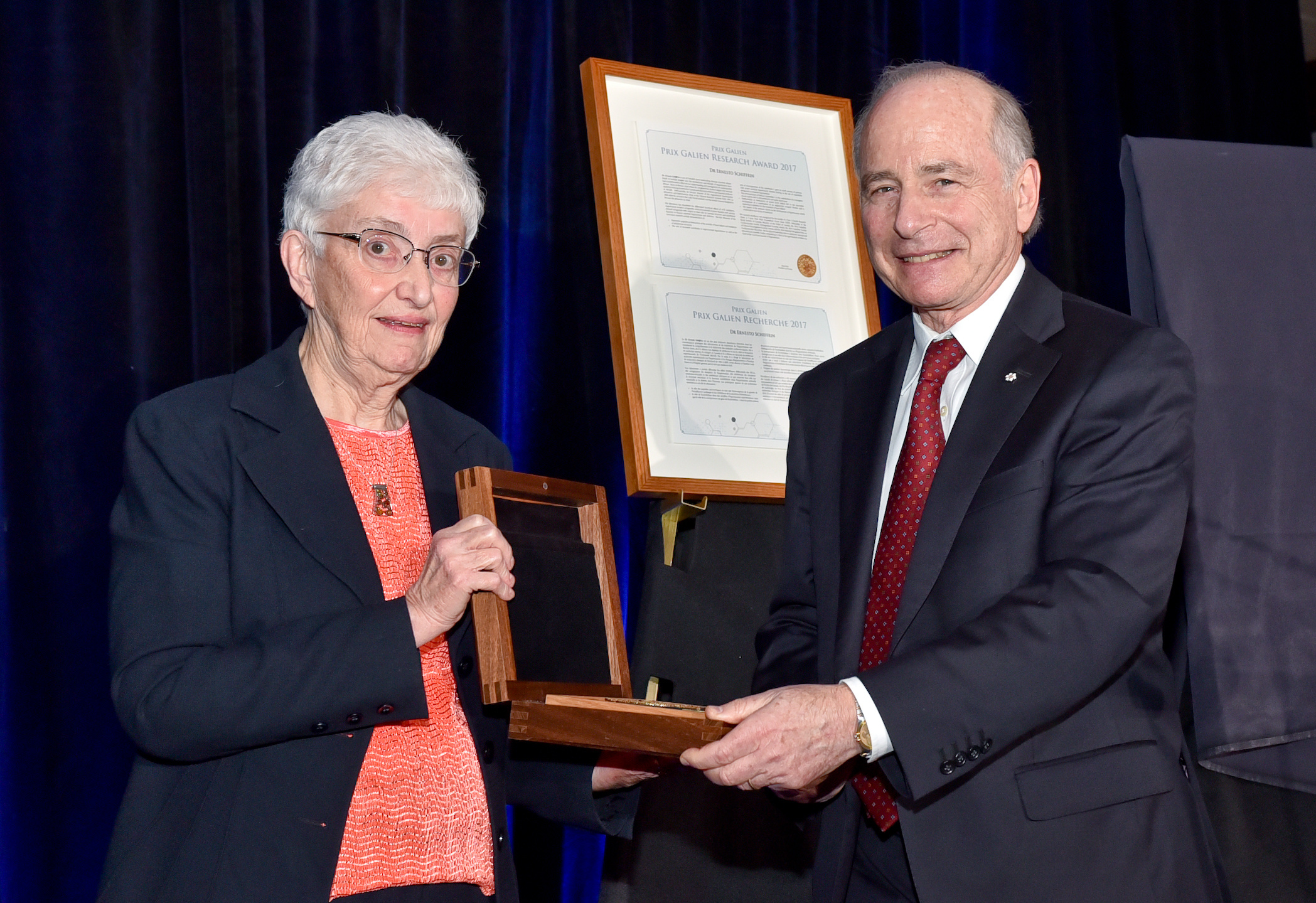 Dr Jean Gray, president of the Jury and Dr Ernesto Schiffrin, vice-chair (research), department of Medicine, McGill University
His laboratory has elucidated the differential beneficial effects of ACE inhibitors, angiotension receptor antagonists, mineralocorticoid receptor blockers and calcium channel antagonists with respect to their role on vascular structure and endothelial function in human essential hypertension and diabetes. The key elements of his innovative research include demonstration of:
Natriuretic peptides as biomarkers of the severity of heart failure and inhibitors of aldosterone secretion
The role of increased endothelin in experimental hypertension as well as the role of overexpression of the endothelin-1 gene in small arteries of patients with severe essential hypertension thereby leading to the use of endothelin antagonists in resistant hypertension
The overexpression of human endothelin-1 in the endothelium of a transgenic mouse and its role in atherosclerosis and aortic aneurysms
Nephrolysins as biomarkers of severe heart failure led to the successful development of a combination of an angiotensin receptor blocker and a nephrolysin inhibitor for the treatment of heart failure
The impact of the immune system in the development of hypertension which could lead to new forms of treatment
Dr Ernesto Schiffrin, vice-chair (research), department of Medicine, McGill University
His research excellence was recognized by the receipt of a Tier 1 Canada Research Chair, a 7-year First Pilot Foundation Grant from CIHR, Fellowship in the Royal Society of Canada, Member of the Order of Canada, the 2013 Canadian Cardiovascular Society Distinguished Scientist Award, the 2015 Canadian Society of Clinical Investigation Scientist Award, and the 2016 National Margolese Prize on Cardiovascular Disorders. He has played leadership roles in numerous national and international scientific bodies culminating in 2016 in his appointment as Editor-in-Chief of the American Journal of Hypertension.
Prix Galien Innovative Product Award 2017
Pembrolizumab (Keytruda) – Merck Canada Inc.

Keytruda is a highly selective humanized anti-programmed cell death receptor-1 (PD-1) antibody that restores T-cell mediated immune response against different types of cancer cells including advanced non-small cell lung carcinoma (NSLC). PD-1 is expressed on antigen-stimulated T cells and induces downstream signalling that inhibits T-cell activity by expressing PD-1 ligands on the cell surface. Anti-PD-1 antibodies can reverse this T-cell suppression and induce long-lasting anti-tumor responses against advanced solid tumors.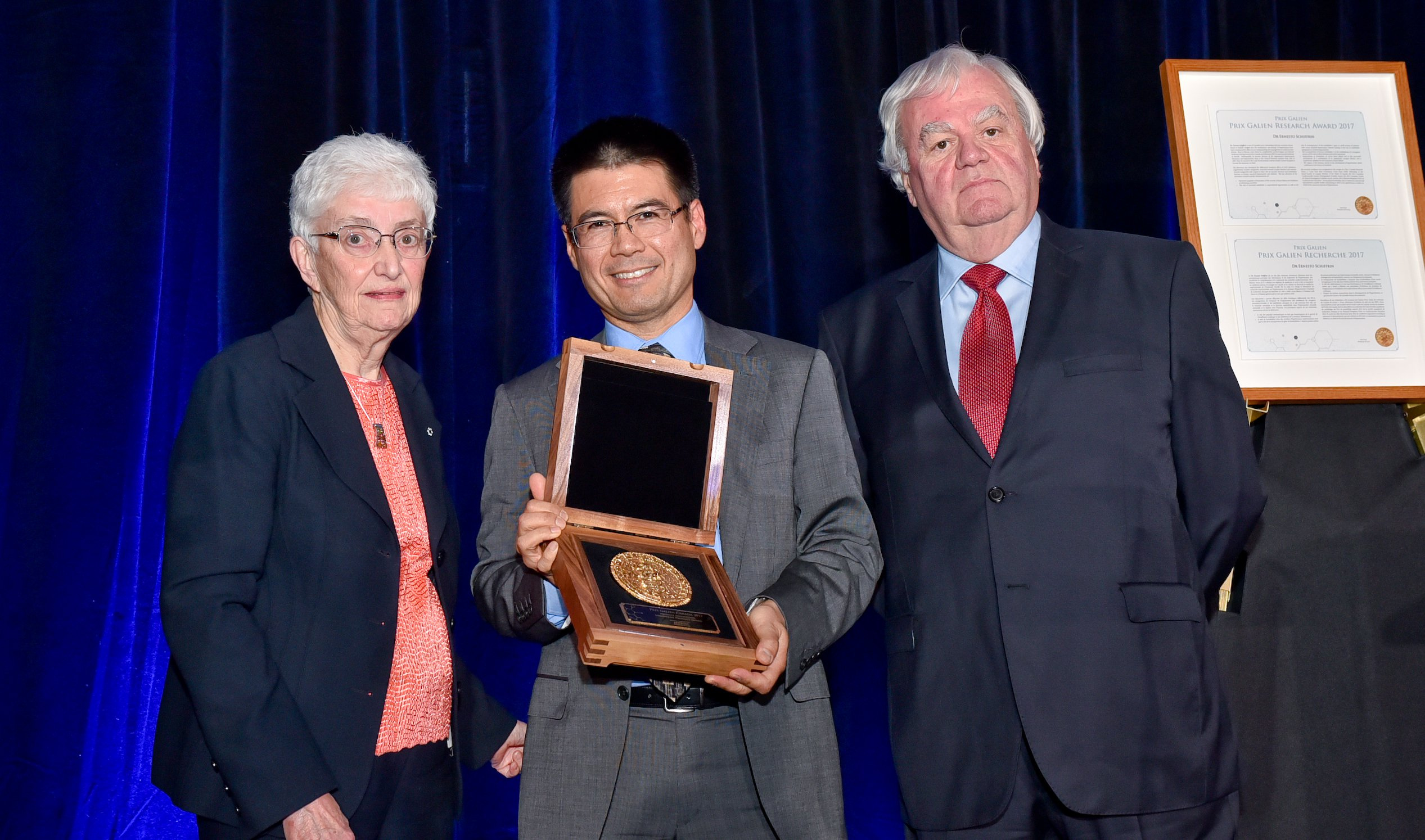 Dr Jean Gray, president of the Jury, Augusto Villanueva, Business Unit Head, Oncology, Merck Canada and Honorary Jury president Jacques Gagné
Lung cancer is the most commonly diagnosed malignancy in Canada and the leading cause of cancer death in Canadians. Traditional treatment involves surgical resection, chemotherapy and radiotherapy. The discovery of therapeutic agents targeting the PD-1/PD-L1 checkpoint marked a breakthrough in the treatment of several solid tumors. Membrane expression of PD-L1 on lung cancer cells correlates with poor prognosis and serves as a predictive biomarker to help identify which patients are most likely to derive clinical benefit from PD-1/PD-L1 checkpoint inhibitors. Targeted patient selection based on PD-L1 levels ensures efficient resource allocation and treatment delivery to the right patients.
Keytruda is indicated for the treatment of patients with metastatic NSLC whose tumours express PD-L1 as determined by a validated test and who have disease progression on or after platinum-containing chemotherapy. An open-label phase 3 trial comparing Keytruda with docetaxel (Keynote 010) which enrolled previously-treated patients whose tumours had high PD-L1 expression (Tumour Proportion Score >50%) as determined by a validated test and with no other tumour genetic aberrations provided sufficient evidence for an expedited approval. Overall survival and progression-free survival were longer in the Keytruda arm of the trial. A second clinical trial that compared Keytruda with platinum containing chemotherapy in untreated patients with PD-L1 expression greater than 50% demonstrated statistically significant overall survival with improved quality of life and fewer side effects.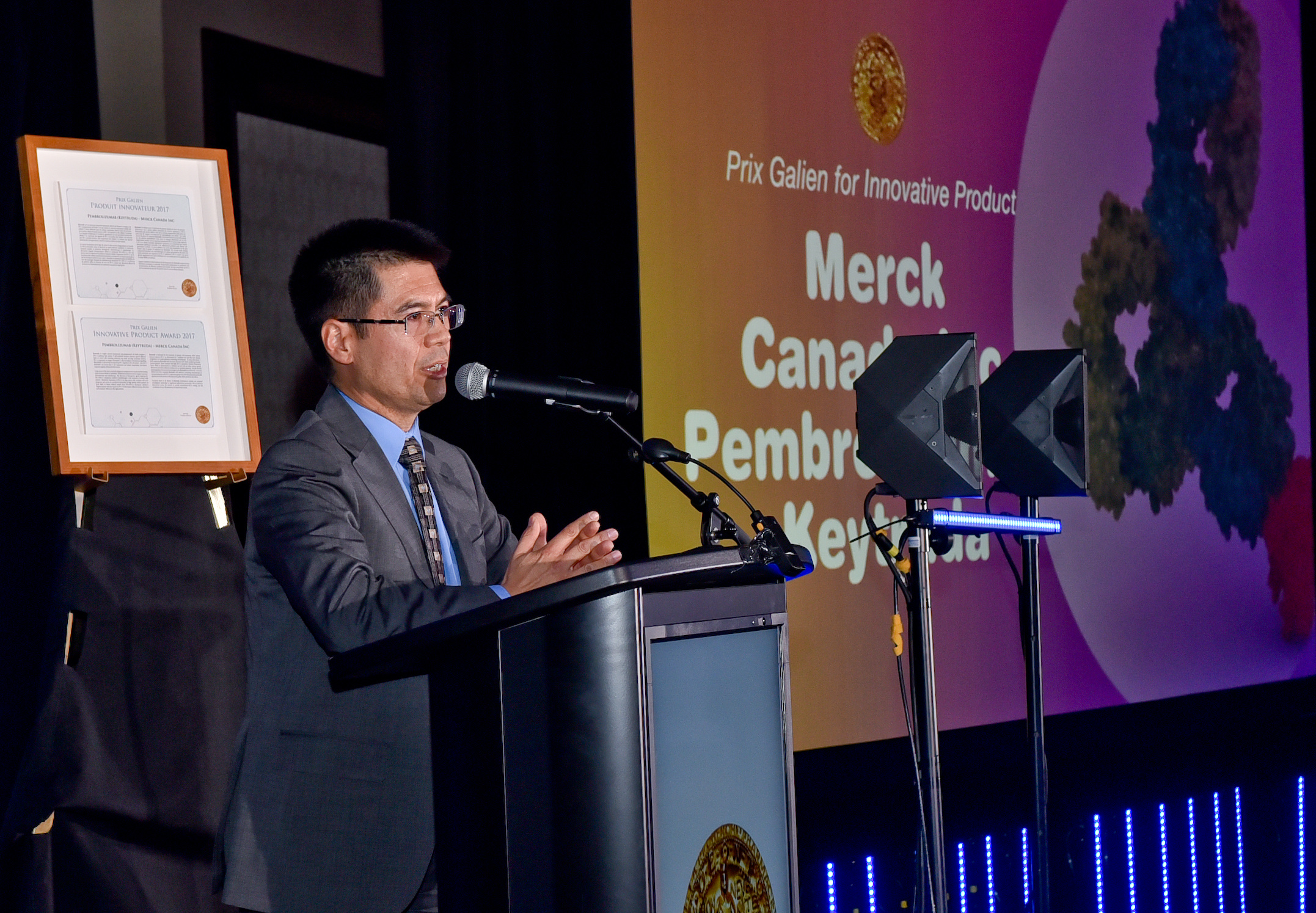 Augusto Villanueva, Business Unit Head, Oncology, Merck Canada
Canadian input to all phases of Keytruda development includes two principal investigators, authorship on significant publications, partnership with six reference laboratories across the country to provide standardized PD-L1 testing, and the enrollment of over 100 patients in 25 clinical trial centres.